"Jump In Line"
Caribbean Steel Drums
See Below
Gallery of Posters
A Slow Loading Page -- Many Large Files
But... It's Worth The Wait!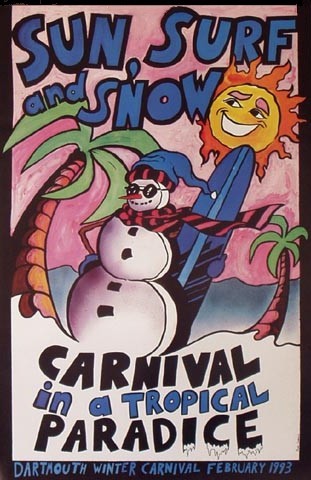 Here's the scoop. To learn more about a given poster,
mouse over the picture and the file name will appears.
Here's how to understand the file structure, the number
following the dash is the asking price for you collectors;
the name after that, if there is one at all,
is the student and class of the artist.
Thanks... PosterBabe!
FULL CREDIT & INFO FOR POSTERS BELOW
National Collegiate Ski Championship Poster

 



1958

 
Dartmouth Outing Club's Golden Anniversary Poster

 



CIRCA 1958

 
As drilled into our conscience through our "Sources" Book which we all received at Freshmen Orientation, we are compelled whenever we "boost" a picture or more to provide the credits and references for more information. Here it is...
DP Vintage Posters
aka
"Posterbabe"
201 Route 37 South
Sherman, Connecticut
Open By Appointment Only
1-860-210-9822
You can get to the same site with
It's an interesting and fun visit!
-- ALL SHOWN POSTERS ARE FOR SALE --
This is not an advertisement for DP Vintage Posters, it is our
expression of gratitude, as with Campion's LP, for the
memories which they are providing us.