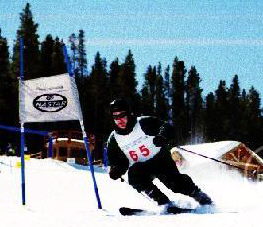 YoursTruly Cutting A Gate
For those who were not here in Vail to experience absolutely fantastic skiing conditions and great camaraderie, here is a brief summary of our just concluded Vail III Mini Reunion... Regards, Steve
Vail Slide Show
CLICK TO VIEW



Once again some aging, but agile, members of the vaunted Class of 1965 gathered in Vail, Colorado to enjoy some great skiing, shopping, condo/house hunting, superb meals, fine wine and the company of a number of Dartmouth Alumni who populate the Vail Valley... Our fellow 65's participating included Ted Atkinson with wife to be Marcia Pryde, Norm Christianson with wife Ellen and son Jay, Chuck Lobitz, Ron Riley with wife Anne, Marshall Wallach and Steve Waterhouse with wife Linda.

Highlights included some great skiing courtesy of Vail's almost record snowfall of the past month, dinner at Ron Riley's outstanding Vail Restaurant, Russell's, and a cocktail party at Steve and Linda Waterhouse's home with a number of other Dartmouth grads from the Classes of '53 to '71 plus some other interesting locals based in the area.

The skiing was really special. On Saturday, Vail groomed it's longest double black diamond run, Blue Ox, and we were privileged to ski it twice... The snow was soft and pliant all over the mountain. There were just no bad runs anywhere on the mountain. We managed to avoid crowds and lift lines so the overall skiing results were excellent!

Ron and Anne Riley organized a great dinner at Russell's which is located next to Vail's famous Covered Bridge over Gore Creek. Ron's excellent staff smoothly handled the boisterous '65 party. And Ron arranged a number of food specialties along with his signature beef dishes for the group. Ron also disavowed previously discussed stories about the "interesting" vacuum cleaner sales tactics used in Kansas City several decades ago by 3 illustrious members of our Class.....

The cocktail party included some outstanding food provided by Steve and Linda at their home on Vail Mountain and a wine tasting focused on Norm and Ellen's wonderful "Canyon Wind" wines..... If you have never had their wine, you are missing something special. It is distributed in 14 States, including the NH liquor store in Lebanon, NH.

The cocktail party included 14 other local Dartmouthites plus some special Vail citizens like '60 Olympic skier and owner of the best mountain retail store in the universe, Dave Gorsuch; former 4 Star General, Asst. SEC of State, NATO Chief of Staff and Gulf War Leader, Jack Chain; Vail's premier Magazine Publisher, Michael Barry; and Vail's legendary local judge, Buck Allen '71. This group provided for a number of interesting discusions.

For you long range planners, the next Vail ski weekend will probably be organized for March 5-7, 2004...... subject to suggestions of other dates.

Live Vail Web Cams

(Updated ~ 5 Minutes)

 

Mid-Vail


Elevation:

10,150 ft / 3,094 m

Click

to enlarge

Wildwood


Elevation:

10,981 ft / 3,347 m

View of Sun Down Bowl

Click

to enlarge

Eagle's Nest


Elevation:

10,350 feet / 3,155 m

View of top of Born Free

Click

to enlarge

Two Elk Lodge


Elevation:

11,220 feet / 3420 m

View of China Bowl

Click

to enlarge

Terrain Park
Elevation: 8,600 feet
View from the Golden

Peak Terrain Park off

the Riva Bahn Express

Lift

Click

to enlarge

9News Cam


View of Vail brought

to you by KUSA 9News.

Click

to enlarge