Dear Classmates...
"It is, Sir, as we have said, a small inn, and yet there are those who love it" to paraphrase Daniel Webster. While Pierce's Inn in Etna is old and just a bit on the funky side, it remains in our hearts as a warm and easy place to gather at least once a year in the autumn for good fellowship, good food, maybe have a glass or two, and to conduct class business.
Again this year Cindy and Bruce hosted a houseful of '65s,topped off by a Saturday night dinner featuring attendance of our latest Class of 1965 scholar and a performance by the Decibelles.
MORE
Stay tuned... Our channel is 2-way.
Ken McGruther
The Quinquennial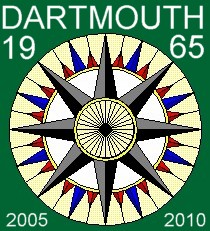 Changing On The Quarterdeck